Sambar Stag Hunting in Australia
Hunt for Sambar Stag in Victoria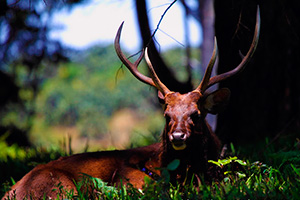 Why not take the ultimate challenge and hunt Australia's premier game animal, the "Mighty Sambar Stag?"
Your guide will hunt with you literally in his own back yard! This gives you, the hunter, the advantage of his intimate knowledge of the area and the habits of this magnificent game animal. You will be hunting Sambar Deer in the picturesque North East Victorian Alps, in semi open temperate eucalyptus
Sambar Deer Hunting
Still hunting is the main method used in this area. Time is spent checking game trails and wallows for fresh sign. At times if the sign is fresh enough, your guide will follow in the hope of ambushing a Sambar Stag. This type of hunting is exhilarating and is the supreme challenge to hunting on the Australian continent.
Getting There
You simply take a connecting flight to Albury Airport. A connection can easily be made from Australia's two major international Airports Melbourne or Sydney. Your Guide or one of his representatives will meet you upon arrival at Albury Airport and transport you approx 1 hour to your hunting area.
Accommodation
You will stay with your Guides family and enjoy wonderful home cooked meals and beverages. Some nights could be spent in a spike camp, this will be at the Guides disgression and all the necessary equipment will be provided.
What to Bring
Good quality pair if hiking boots, Binoculars, warm (commo) hunting clothing, day pack, torch (headlamp), wet weather clothing, sleeping bag and your personal effects.
Your guides have a selection of quality firearms for your use. Should you choose to bring your own firearm, three months prior notice is required to apply for your import permit. There is also a limit of 40 rounds of ammo that can be bought into Australia. Bow hunters are also welcome.
Seasons
You will be hunting during the winter months to early spring when the snow drives the sambar down lower in the valleys and during the activity of the rut, June-September. Temperatures can vary from below freezing (early morning) to 16 degrees celcius through the day.
Included in Hunt Cost
The following are included in the hunt cost:
Transfers from closest airport to hunting area.
Accommodation for duration of hunt.
All food and beverages. (excluding alcohol)
Skinning and field preparation of trophies.
Hunting guides for duration of hunt.
Not included
Domestic or International flights.
Accommodation prior to and after the hunt.
Packaging or Shipping of your trophies.
Alcoholic beverages.
Rifle import permit.
Tips or gratuities to your guide or his staff.
Additional trophies outside the hunting package.
Insurance
Whilst all reasonable care will be taken during your stay, hunting is a potentially hazardous pursuit and your guide or his staff will not be held responsible for loss or injury that may occur.
We strongly advise all our hunters to arrange adequate insurance prior to leaving your home. All our hunters will be supplied with our Terms and Conditions and Indemnity Forms prior to the hunt commencement.
Summary
Sambar Stag hunting is the ultimate challenge, to hunt the premier game animal in Australia. But you have to your advantage, a top notch Guide who knows his hunting area and knows Sambar Deer like no other. Besides the hunting expertise of your Guide, you will be hunting exclusively on private land in some of Australia's most beautiful mountain country.
Please fill in the form below for the current price list or to book this hunt now, simply fire us off an email. Also please check our testimonial page for a long and growing list of satisfied clients who have experienced this wonderful Sambar hunting adventure.
Photo Gallery