Rusa deer hunting
Rusa stag hunting in North Queensland Australia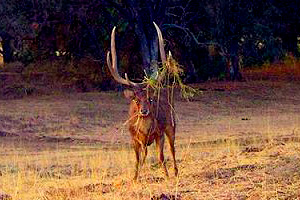 We have a limited number of hunts available for huge free range rusa stags on our exclusive hunting areas in North Queensland. These areas produce high quality rusa stags due to our "Trophy Heard Management Program" and we have taken 3 stags in the last three years that place in the top 10 of the record book.
Season
Rusa stags are in rut from mid-June to August. The best time to hunt is the last week of June to mid-July.
Hunting
Hunting is conducted during the rut when the stags are roaring. Spot and stalk is used in the semi open scrub land and calling and rattling is done to locate stags. Whilst most hunting is done on foot this is not a physically demanding hunt as the ground is flat and walking is easy.
Accommodation
Due to the remoteness of the hunting area (a working cattle station) we are only able to offer a tented camp. However you will be made very comfortable with portable beds and mattresses, shower facilities and good quality camp food.
Getting there
Hunters will fly to Longreach Regional Airport that is accessible via Brisbane International Airport where you will be met and transported two hours by vehicle to the hunting area.
Included in Hunt Cost
The following are included in the hunt cost:
Transfers from closest airport to hunting area.
Accommodation for duration of hunt.
All food and beverages. (excluding alcohol)
Skinning and field preparation of trophies.
Hunting guides for duration of hunt.
Not included
Domestic or International flights.
Accommodation prior to and after the hunt.
Packaging or Shipping of your trophies.
Alcoholic beverages.
Rifle import permit.
Tips or gratuities to your guide or his staff.
Additional trophies outside the hunting package.
Insurance
Whilst all reasonable care will be taken during your stay, hunting is a potentially hazardous pursuit and your guide or his staff will not be held responsible for loss or injury that may occur.
We strongly advise all our hunters to arrange adequate insurance prior to leaving your home. All our hunters will be supplied with our Terms and Conditions and Indemnity Forms prior to the hunt commencement.
For current prices on all our hunts please fill in the details below.
Photo Gallery