Dagestan (Eastern) Tur – Azerbaijan
Hunt for Dagestan (Eastern) Tur in Azerbaijan
Hunting Area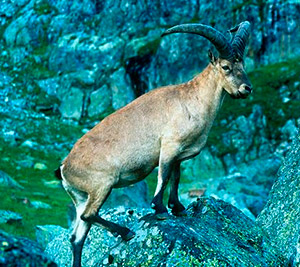 This hunt is conducted in the mountainous area north west of the capital Baku.
Getting There
Hunters fly into the city of Baku Azerbaijan which has connection to many European cities including Istanbul. There you will be met and assisted through customs with your firearm. You will then be transported by vehicle into the base camp of the area to be hunted.
Accommodation
There is a hut at the base camp but whilst hunting you will stay in spike camps in the mountains to avoid climbing each day. Meals will be provided by your guides.
Seasons
Open season is from May to November but the best time to hunt is in September/October when the skins are at their best.
Group Size
Hunting is normally done 1 x 1 but we can accommodate up to 4 hunters at a time.
Duration of Hunt
This is a 7 day hunt.
Hunting Methods
As with most mountain hunts, hunting is by spot and stalk. There are horses to get you up to where the Tur are encountered but you will need a good level of fitness for this hunt, similar to that required for a Thar/Chamois hunt in New Zealand. Please note your personal effort and physical condition could well determine the quality of the trophy you harvest on this hunt. It is a physically demanding hunt.
Full Brochure
Click to download
Included in Hunt Cost
The following are included in the hunt cost:
Meet and Greet at the Airport.
English speaking guides.
Accommodation for duration of hunt.
All food and beverages. (excluding alcohol)
Skinning and field preparation of trophies.
Hunting guides for duration of hunt.
All transport during the hunt.
Not included
Domestic or International flights.
Accommodation prior to and after the hunt.
Packaging or Shipping of your trophies.
Alcoholic beverages.
Rifle import permit.
Tips or gratuities to your guide or his staff.
Visa's
Insurance
Whilst all reasonable care will be taken during your stay, hunting is a potentially hazardous pursuit and your guide or his staff will not be held responsible for loss or injury that may occur.
We strongly advise all our hunters to arrange adequate insurance prior to leaving your home. All our hunters will be supplied with our Terms and Conditions and Indemnity Forms prior to the hunt commencement.
Summary
For those of us who love their mountain hunting it doesn't get much better than this, hunting in spectacular country where you can spot your quarry from a huge distance then plan you stalk and take the shot at an average of 300 metres. In my book that's what mountain hunting is all about, then when you throw in a spectacular trophy and the very reasonable price this hunt is hard to beat.
For current prices on all our hunts please fill in the details below.
Photo Gallery