Ibex hunting in Tajikistan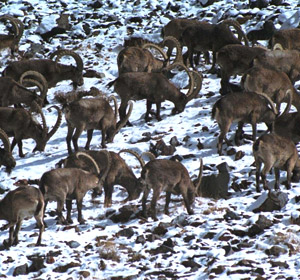 Tajikistan is a landlocked country in central Asia with 90% of its surface covered by mountains the most famous mountain range is the Pamir Mountains that stretch across Tajikistan and into neighboring China. Tajikistan is most famous for its population of Marco Polo Argali but it also has some exceptional mid Asian Ibex as well.
Hunting
Hunting is done with the aid of horses and it's not uncommon to cover some 20 to 30 klm on horseback each day. You will get an early start, some times before daylight depending on the situation and if you have spotted some good trophy animals bedding on dark. The final approach/stalk will be done on foot usually from above the ibex until you can close the distance to 300 to 400 meters for a shot. You will have 1 and sometimes 2 guides to help you with the hunt, most guides have some English skills enough to get by.
Accommodation
In the base camp which is at just under 4,000 meters altitude there are permanent stone building that can accommodate several hunters with a kitchen, sleeping and eating areas as well as a traditional Russian sauna for washing. Whilst hunting there are several small hunts and camps scattered around the many valleys that are used for overnights or a few days at a time. During the hunt your guides will supply you with food and drinks mostly green and black tea. It's a good idea to pack some snack foods as these are difficult to find in Tajikistan.
Getting there
Best way is to transit via Istanbul Turkey (gun friendly) and arrive in Bishkek or Osh in Kyrgyzstan from here it's around a 10 hour drive to the mountain pass where the guides will meet you with horses and equipment for the 1 day ride into camp.
Seasons
August to November and February. Best time is October
Weather
In October there is usually little snow on the ground with pleasant sunny days and cool nights. Daytime temps are from 10 to 15 degrees Celsius and night are from 5 to – 5 degrees Celsius. Cold and snowy weather can come at any time so you should pack some suitable clothing for this event and a white overall is very helpful for camouflage if there is snow on the ground.
Price
14 day tour including 1 trophy ibex US$6,500
Additional ibex US$3,000
Full Brochure
Click to download
Price includes
The following are included in the hunt cost:
1 trophy ibex
Guiding 1 x 1 and horses during the hunt
Field preparation of trophies
Accommodation and meals during the hunt
Ground transfers from Osh to hunting area
Vet certificates and export documents
Not included
Domestic or International flights.
Cost of Tadjik visa.
Helicopter transfer. (6,000 euro for a trip per group)
Overnight Hotel in Dushanbe.
Accommodation prior to and after the hunt.
Packaging or Shipping of your trophies.
Alcoholic beverages.
VIP services in airport in Dushanbe. (aprox US$220)
Tips or gratuities to your guide or his staff.
Insurance
Whilst all reasonable care will be taken during your stay, hunting is a potentially hazardous pursuit and your guide or his staff will not be held responsible for loss or injury that may occur.
We strongly advise all our hunters to arrange adequate insurance prior to leaving your home. All our hunters will be supplied with our Terms and Conditions and Indemnity Forms prior to the hunt commencement.
Photo Gallery