Marco Polo Sheep Hunting in Tadjikistan
Hunt for Marco Polo Argali (ovis ammin polii) in Tadjikistan
Hunting Area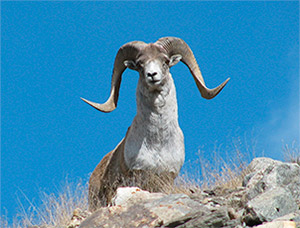 Tadjikistan, Gorno-Badakhshan autonomous region around the Murgab area. Murgab is the only town in this area and is about 200 klm from Kara-Kul Lake.
Transport
Arrival in Bishkek via Istanbul where your visa will be issued, this may take 1 to 2 days. Then a 2-hour flight to Osh then overnight in Osh. Next day you will transfer to base camp approximately 9 to 11 hours by vehicle.
Accommodation
The base camp is hunting lodge with kitchen or yurts. Spike camp is tented camp with a warm stove.
Seasons
September to November and February to March.
Group Size
1 to 4 hunters.
Hunting Methods
1 to 2 days acclimatization in base camp then transfer to the hunting area by vehicle. From there you will be hunting from fly camp for 2 to 4 days at a time. Like all sheep hunting good physical fitness is a must as is good optics.
Not included in Cost
Air tickets Bishkek-Osh-Bishkek, overnight accommodation in Bishkek, cost of Tadjik and Kirgizian visa approximately US$330, VIP service in airports US$ 250.
Full Brochure
Click to download
Included in Hunt Cost
The following are included in the hunt cost:
Assistance clearing customs.
Transport to and from the hunting camps.
Interpreter services.
Acquiring rifle permit.
Food and accommodation.
All food and beverages. (excluding alcohol)
Field trophy care.
Export and CITES permit.
Not included
Domestic or International flights.
Cost of Tadjik and Kirgizian visa. (approx US$330)
Overnight accommodation in Bishkek.
Accommodation prior to and after the hunt.
Packaging or Shipping of your trophies.
Alcoholic beverages.
VIP service in airports. (US$ 250)
Tips or gratuities to your guide or his staff.
Insurance
Whilst all reasonable care will be taken during your stay, hunting is a potentially hazardous pursuit and your guide or his staff will not be held responsible for loss or injury that may occur.
We strongly advise all our hunters to arrange adequate insurance prior to leaving your home. All our hunters will be supplied with our Terms and Conditions and Indemnity Forms prior to the hunt commencement.
For current prices on all our hunts please fill in the details below.
Photo Gallery
Please note that access to many International hunting grounds may require aerial and/or unusual forms of ground transportation such as snowmobiles etc. These forms of transport can be susceptible to the effects of extreme and unforeseeable weather shifts. Hunters are therefore advised to factor in some time flexibility to allow for unforeseen events.