Mid Asian Ibex in Kyrgyzstan
Hunt for Mid Asian Ibex in Kyrgyzstan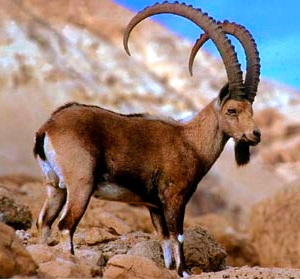 The empire of the Siberian Ibex, the Tien Shan Mountains are located in Kirgiza. The ibex from this region reach up to 110 to 130 cm in length and from 25 to 29 cm at the bases.
This is a very difficult hunt and requires a good level of fitness to hunt at an altitude of 3000 to 4500 metres. The ibex usually feed until around 9am making them easier to see. After 9am the ibex move to their bedding areas where they stay bedded until around 5pm when they start feeding again.
The hunter accompanied by the guide surveys the ibex for trophy potential while they are feeding or bedded down. Shots are usually between 250 to 300 metres.
Hunting Area
Tien Shan Mountains Kyrgyzstan, central Kirgisian range.
Transport
4 hours flight from Moscow to Bishkek or direct flight from Europe to Bishkek then 3 to 5 hours drive by vehicle to the hunting camp.
Accommodation
Hunting lodges, heated yurts and tents.
Seasons
March and August to November.
Group Size
3 to 6 hunters.
Duration of Hunt
11 days total, 7 days hunting.
Full Brochure
Click to download
Included in Hunt Cost
The following are included in the hunt cost:
Accompanying guides.
Assistance clearing customs.
Organisation of visa requirements.
Interpreter services.
All food and accommodation.
Hunting guides for duration of hunt.
Field trophy preparation.
Export of trophies.
Not included
Domestic or International flights.
Cost of Kirgizian visa.
Transfers in Kirgizia (US$600 per group)
Overnight accommodation in Bishkek.
Accommodation prior to and after the hunt.
Packaging or Shipping of your trophies.
VIP service in Bishkek airport (US$120 per hunter)
Alcoholic beverages
Tips or gratuities to your guide or his staff.
Insurance
Whilst all reasonable care will be taken during your stay, hunting is a potentially hazardous pursuit and your guide or his staff will not be held responsible for loss or injury that may occur.
We strongly advise all our hunters to arrange adequate insurance prior to leaving your home. All our hunters will be supplied with our Terms and Conditions and Indemnity Forms prior to the hunt commencement.
For current prices on all our hunts please fill in the details below.
Photo Gallery
Please note that access to many International hunting grounds may require aerial and/or unusual forms of ground transportation such as snowmobiles etc. These forms of transport can be susceptible to the effects of extreme and unforeseeable weather shifts. Hunters are therefore advised to factor in some time flexibility to allow for unforeseen events.