Bezoar Ibex hunting in Turkey
Bezoar Ibex – one of the most sought after trophy animals in the hunting world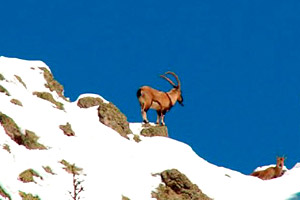 Thanks to an unusually high game management program, Turkey becomes the first destination for the biggest Bezoar Ibexes in the world. The trip is very easy. There are daily flights from any European airport to Istanbul and from there to Erzurum, where one of our staff will welcome you at the airport and clear the rifle for you.
Hunting
The Bezoar Ibex is one of the most interesting wild goats of the world. The well curled, slim shaped horns, reminds the swords, the outman's used during their fights and wars. You will find a large horn variety with massive curls, wide tips, curled tips, long and uncurled horns etc. We talk about a good trophy when the horns reach 100 cm. Everything up to 125 cm is very good and up to 140 cm is exceptional. The 'billys' hunted in our exclusive area have an exceptional big base as well. As with all mountain hunts hunters should be in a good physical condition to maximise enjoyment and hunting success.
Season
Depending on the area the best time for hunting Bezoar Ibex is November and December during the rut. It is spectacular and dramatic to see the billies fighting in steep mountains. After the rut the Ibexes come down to a lower altitude because of snow falls. It is also possible to get a very good trophy during this time.
Accommodation
The accommodations are normal class hotels during the hunt. Depending on the game situation it is possible that the hunter has to stay in spike camps for a couple of days. But one thing is clear everywhere, you will get the best Turkish kitchen available and you will enjoy mountain hunting at its very best.
Firearms
As with most mountain hunts, a quick calibre like the 7mm Rem. mag and all .300 calibers are ideal for long distance shots. As there is a limited number of tags given each year, we recommend an early reservation.
Included in Hunt Cost
The following are included in the hunt cost:
Meet and Greet at the Airport.
Assistance clearing customs.
Accommodation for duration of hunt.
All food and beverages. (excluding alcohol)
Field preparation of trophies.
Hunting guides for duration of hunt.
Not included
Domestic or International flights.
Accommodation prior to and after the hunt.
Packaging or Shipping of your trophies.
Alcoholic beverages.
Rifle import permit.
Tips or gratuities to your guide or his staff.
Insurance
Whilst all reasonable care will be taken during your stay, hunting is a potentially hazardous pursuit and your guide or his staff will not be held responsible for loss or injury that may occur.
We strongly advise all our hunters to arrange adequate insurance prior to leaving your home. All our hunters will be supplied with our Terms and Conditions and Indemnity Forms prior to the hunt commencement.
Summary
If you have any questions regarding Bezoar ibex, please don't hesitate to contact us. A combination of Bezoar Ibex and the world re-known big wild boar tuskers is possible. You will enjoy beautiful monets in the Turkish mountains whilst hunting the worlds most beautiful goat.
For current prices on all our hunts please fill in the details below.
Photo Gallery
Please note that access to many International hunting grounds may require aerial and/or unusual forms of ground transportation such as snowmobiles etc. These forms of transport can be susceptible to the effects of extreme and unforeseeable weather shifts. Hunters are therefore advised to factor in some time flexibility to allow for unforeseen events.