Alberta Canada Hunting
Hunts for Mule Deer, Whitetail Deer and Pronghorn Antelope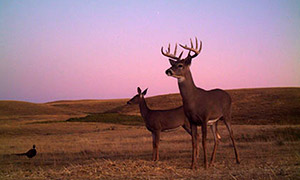 If you're after record book Mule Deer, Whitetail Deer or Pronghorn Antelope then Southern Alberta is the destination for you.
We have been fortunate to work with a small-scale outfitter who has been getting exceptional results year after year on all 3 species. Bow hunters are welcome to take the challenge on any of these species and in fact enjoy a great success rate; especially antelope bow hunts during the rut are running at 99% on book-sized trophies.
Also early season mule deer bow hunts are achieving the same success rates on trophy book bucks. If you finish your hunt early small game can be hunted for the duration of your booked dates at no extra cost.
Hunting Method
Spot and stalk is the preferred method of hunting, you won't be stuck up a tree stand all day waiting for game to come to bait! As you are hunting on private land and the harvest is strictly regulated, numbers of game are abundant and you can see up to 300 deer a day.
Decoying and calling are also used for the Antelope bow hunts, imagine the adrenalin surge when a good buck antelope comes at 40 mph full charge then stops at 30 yards in front of your bow!
Getting There
There are 4 options available:
Fly into Lethbridge Alberta and your guide will pick you up and return you at the end of the hunt Cost US$250.
Fly into Great Falls Montana (USA) and your guide will pick you up and return you at the end of the hunt Cost US$250.
Fly into Calgary Alberta and your guide will pick you up and return you at the end of the hunt Cost US$500.
Fly into any of the above destinations and drive by hire car to Aden Alberta.
Accommodation
You will be accommodated at the guide's property in comfortable cabin style accommodation and fed wholesome home cooked meals.
What to Bring
Depending on what part of the season you hunt you will need to be prepared for some cold weather especially in rifle deer season.During November there will most likely be snow on the ground so bring suitable warm clothing.
For bow hunters hunting the early season, suitable camo gear is recommended with comfortable warm boots, binoculars, warm hat and brimmed or peaked cap, camera, torch (flashlight), day pack, personal effects.
Seasons
Archery Antelope…….September 5th to October 16th.
Archery Deer…………..September 5th to October 31st.
Rifle Antelope………….October 23rd to November 4th.
Rifle Deer………………..November 4th to November 30th.
Included in Hunt Cost
The following are included in the hunt cost:
Accommodation for duration of hunt.
Transportation around the hunting area.
All food and beverages. (excluding alcohol)
Skinning and field preparation of trophies.
Hunting guides for duration of hunt.
Trophy fees, tags and license for species hunted.
Not included
Domestic or International flights.
Accommodation prior to and after the hunt.
Transport to and from the hunting area.
Packaging or Shipping of your trophies.
Alcoholic beverages.
Tips or gratuities to your guide or his staff.
Insurance
Whilst all reasonable care will be taken during your stay, hunting is a potentially hazardous pursuit and your guide or his staff will not be held responsible for loss or injury that may occur.
We strongly advise all our hunters to arrange adequate insurance prior to leaving your home. All our hunters will be supplied with our Terms and Conditions and Indemnity Forms prior to the hunt commencement.
Summary
This hunting Alberta adventure is perfect for the hunter looking for that once in a lifetime Mule Deer, Whitetail Deer or Pronghorn Antelope, hunting where you have no pressure from resident hunters.
This outfitter averages muleys in the 180 B and C range and bucks over 200 B and C are seen. Whitetail in the 140 B and C are average but bucks up to 160 B and C have been taken, they don't get that big by being stupid!
This is a great hunt right in your guide's back yard so he is there all year scouting and knows where the big ones are. Call or email now, as places are very limited.
For current prices on all our hunts please fill in the details below.
Photo Gallery
Please note that access to many International hunting grounds may require aerial and/or unusual forms of ground transportation such as snowmobiles etc. These forms of transport can be susceptible to the effects of extreme and unforeseeable weather shifts. Hunters are therefore advised to factor in some time flexibility to allow for unforeseen events.