British Columbia Canada hunting
Hunt trophy species in British Columbia, Canada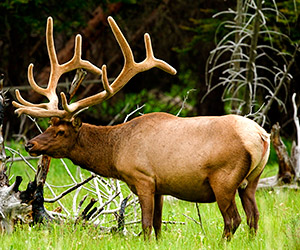 Australian Hunting Consultants are pleased to have the services of a highly professional outfitter with exclusive use of 2 adjoining guiding concessions totaling some 3 million acres of pristine wilderness.
On This British Columbia Hunt the outfitter is able to offer a wide range of trophy hunts with standard combination hunts as well as customised hunts for 1×1 or 2×1.
The trophy species on offer are as follows: Elk, Mule Deer, Whitetail Deer, Shiras Moose, Bighorn Sheep, Mountain Goat, Grizzly Bear, Black Bear, Mountain Lion, Bobcat, Lynx and Wolf. Hunts in Northern Alberta and Yukon for Moose and Mountain Caribou can also be arranged.
Hunting
Hunting is spot and stalk, calling is also used during the elk bugle. Due to the vastness of the hunting area horses are used to access the remote cabins and spike camps. During winter hunts for Wolf, Mountain Lion, Bobcat, and Lynx, walker hounds and snowmobiles may be used.
All hunting is done in accordance with Provincial regulations and in the spirit of fair chase.
Accommodation
Hunters will be accommodated in either one of the main lodges or one of the many cabins scattered around the hunting concession. Spike camps are used in some circumstances but this will be at the guide's discretion. All meals and non alcoholic beverages are included in the package.
Getting There
Hunters will fly to Cranbrook, British Columbia where your Guide can organise accommodation prior to and after your hunt including transport from the hotel to the hunting area and return (at the hunters expense).
What to Bring
Good optics are a must in this wilderness area so good quality binoculars and a spotting scope are essential. With such a long hunting season weather conditions may vary greatly, your outfitter will send you a full list of equipment needed once a deposit has been received.
A good level of fitness is essential particularly for Elk, Sheep and Mountain goat hunting, your level of fitness may have a direct bearing on the success of your hunt we strongly recommend that hunters commence a fitness regime 6 months prior to the hunt date.
Seasons
Hunting can be done from April to September. The most comfortable time to hunt is during the dry cooler months, June through to August. We would recommend these months for hunters from colder climates as the heat can become quite oppressive and may make for an uncomfortable hunt. During the cooler months the days are warm and pleasant, cooling down in the evenings.
Included in Hunt Cost
The following are included in the hunt cost:
Accommodation for duration of hunt.
All food and beverages. (excluding alcohol)
Skinning and field preparation of trophies.
Hunting guides for duration of hunt.
Not included
Domestic or International flights.
Accommodation prior to and after the hunt.
Packaging or Shipping of your trophies.
Alcoholic beverages.
Tips or gratuities to your guide or his staff.
Government G.S.T 2.5%
Insurance
Whilst all reasonable care will be taken during your stay, hunting is a potentially hazardous pursuit and your guide or his staff will not be held responsible for loss or injury that may occur.
We strongly advise all our hunters to arrange adequate insurance prior to leaving your home. All our hunters will be supplied with our Terms and Conditions and Indemnity Forms prior to the hunt commencement.
Summary
This outfitter offers the best available hunts for a wide variety of North American big game animals amongst some of the most stunning mountain scenery any where in the world. We can also offer you the hunter, customised hunts for multiple species including Mule deer and whitetail bucks during the rut in November. We have no hesitation in giving this operation our highest recommendation and you won't be disappointed.
For current prices on all our hunts please fill in the details below.
Photo Gallery
Please note that access to many International hunting grounds may require aerial and/or unusual forms of ground transportation such as snowmobiles etc. These forms of transport can be susceptible to the effects of extreme and unforeseeable weather shifts. Hunters are therefore advised to factor in some time flexibility to allow for unforeseen events.